Working at home is not as easy as I thought it would be. I felt much more productive while traveling across many countries than now sitting at my desk at home for the whole day. After being back from months of travel, I had in mind to recycle all the furnitures, hardware and accessories I had before leaving from France to the US, but I realized quickly I wasn't very comfortable with my setup (a very small desk, an old HD+ monitor and a chair giving me some intense back pain). I had to change it to make it feel more like a proper "office" environment.
Specs
---
Desk/Chair:
IKEA Hammarp Countertop (Birch) 186cm
IKEA Finnvard Trestles (Birch)
IKEA Markus Office Chair (Black)
Monitor/Accessories:
Screen: Curved 34" LG Ultrawide (34UC88-B)
Monitor Stand: Amazon Basics Single Monitor Display Mounting
Keyboard: CoolerMaster MasterKeys Pro S (MX Brown)
Mouse: Razer Diamondback (2007 Frost Blue)
Headset: Seinnheiser HD650
Sound System: Sound BlasterX Katana
Desktop:
OS: ArchLinux (Double boot Windows 10)
Windows Manager: AwesomeWM
Editor: Visual Studio Code / vim
Processor: Intel Core i7-4770K
Motherboard: Gigabyte GA-Z87N-WIFI
Graphic Card: Nvidia Gefore GTX1060
Storage: Samsung SSD 840 (128G) / Seagate HDD 2TB
Computer case: Fractal Design Node 304 / Noctua fans
Memory: GSkill 8G
Pictures
---
From the "outside", the setup looks simple. For the desk, I decided to go with the "Ikea Kitchen Countertop" trend. The Karlby Countertop is probably the most common choice amongst these Ikea desks with its darker feel and finish. Although the Karlby countertop has a nice feel to it, it is also not "real wood" so I decided to go with the Hammarp (Birch) instead. It also pairs better with the Finnvard Trestles (which I liked because I could slightly tilt the workspace forward).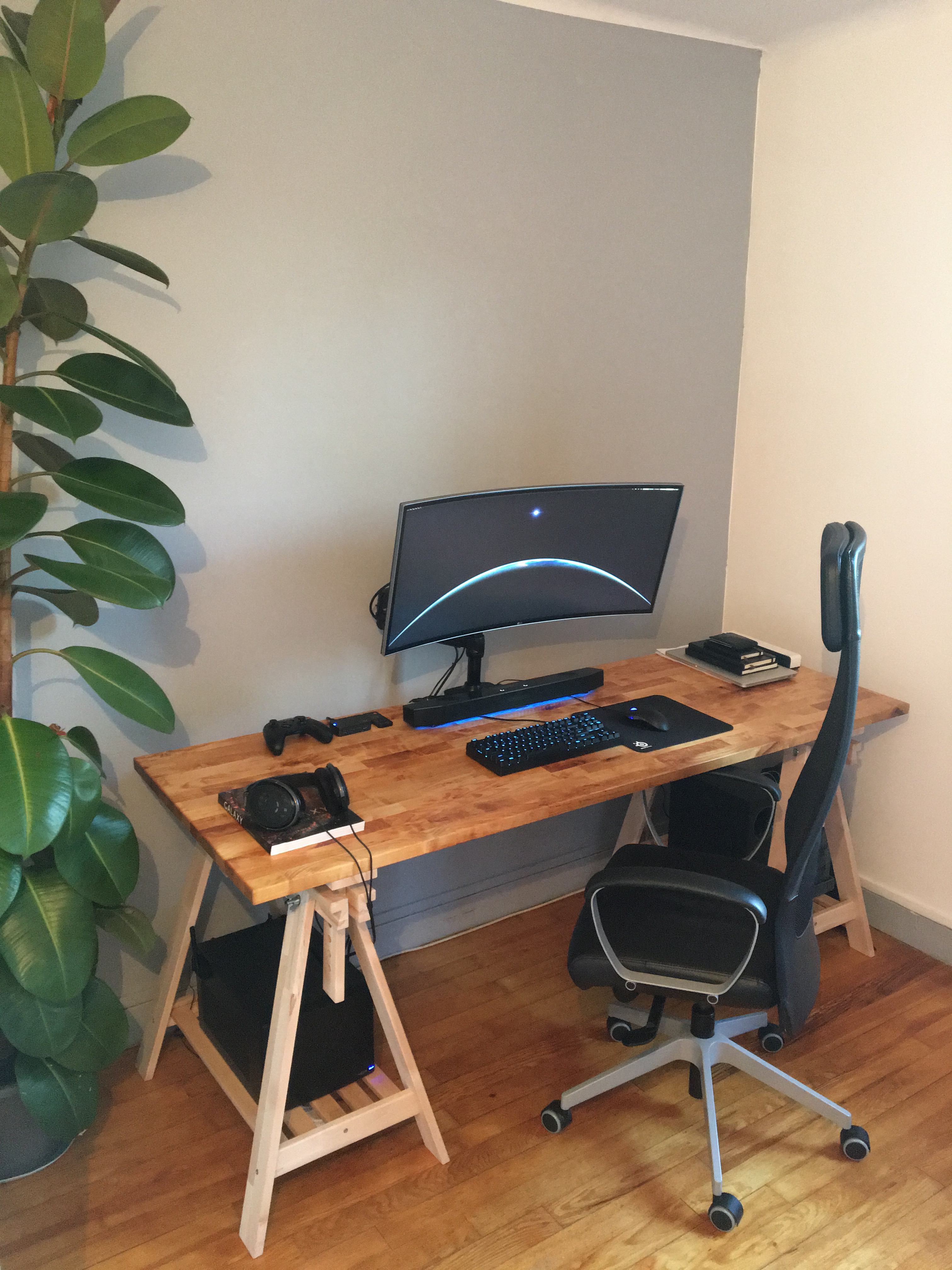 For the screen I decided to go with a curved 34" ultrawide LED screen from LG and this is probably the most critical point for this setup. Working on an ultrawide really boosts the productivity with more space to work on. Using such a screen space with a tiling windows manager is a life changer. For the Keyboard I decided to switch from an outdated Logitech keyboard to a mechanical CoolerMaster keyboard. I was interested by the MasterKeys Pro S because of the backlit keyboard and the many configuration options (you can also play snake on that thing, how cool and useless is that?). For the mouse I recycled an old Razer Diamondback from 2009, which still does the job.
Under the screen you can notice a sound bar from Creative, the Sound BlasterX Katana, which comes with fancy LED lighting that I configured in blue to match with the keyboard and mouse. It includes a built-in digital to analog converter, that I can use with my HD-650 headset to improve sound quality. While it is not as powerful as some other dedicated DAC, the Katana is very versatile and includes everything that's needed in a tiny footprint (instead of say, having a DAC with two dedicated speakers wasting space on the desk). The sound bar works great with Linux even though you have to use some Creative software on Windows to change sound profiles that are stored in the built-in memory. If you are curious on how to get this to work with alsa/pulseaudio/mpd, you can take a look at the sound configuration files in this repository.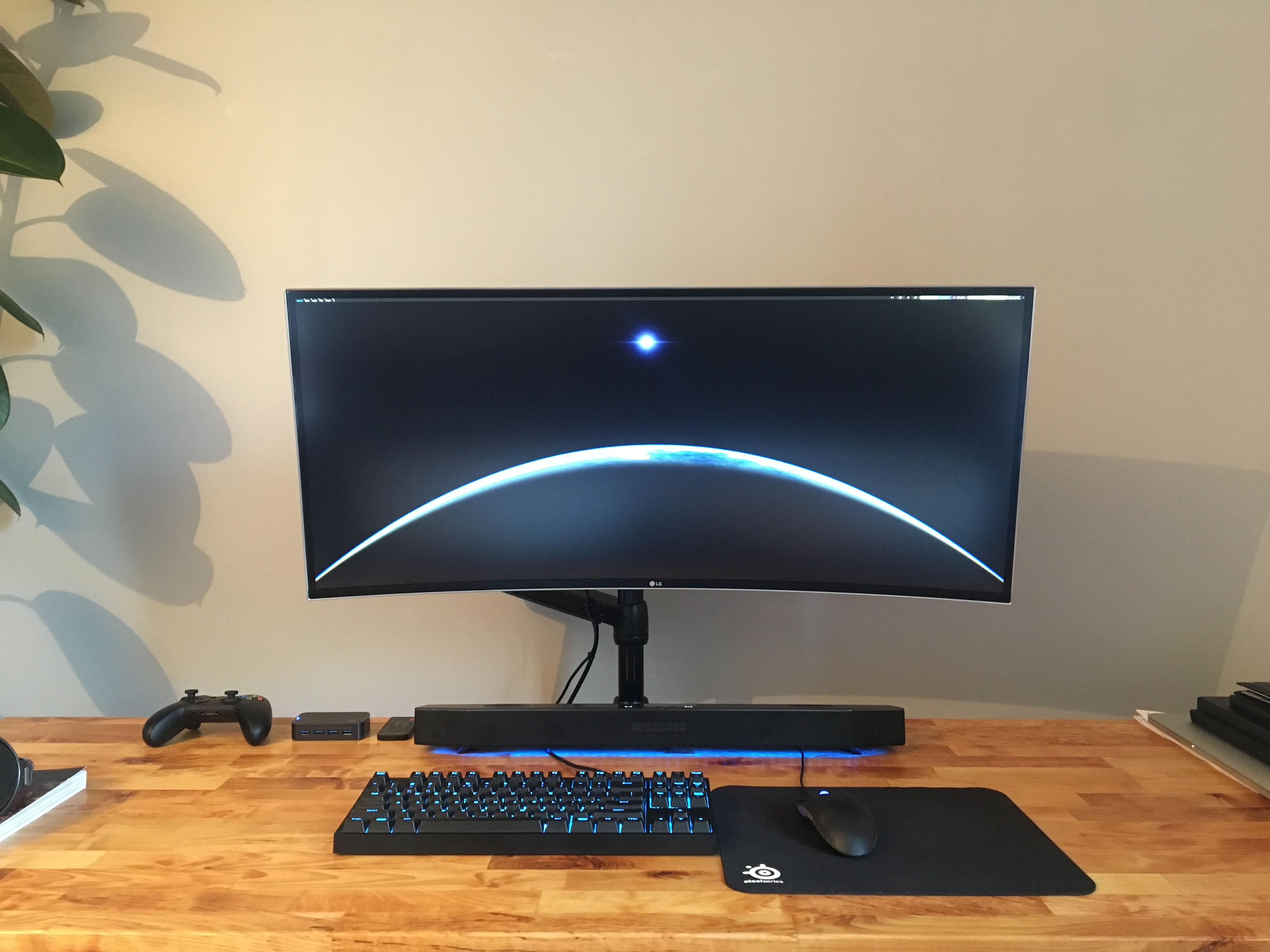 On the Operating System and desktop environment front, I'm using Awesome WM with ArchLinux. It's been almost 6 years that I'm using Awesome WM and I have hard times switching to any other windows manager (people tried to bring me to the i3 side on numerous occasions though). In my opinion it's the most flexible and capable tiling windows manager provided that you know a bit of Lua (but tiling WM are generally a matter of taste, use the one you like the most). For my editor, I switched from using vim to using Visual Studio Code as the support for Rust on vscode is getting much better recently. You can glance over the configuration files in my dotfiles github repository.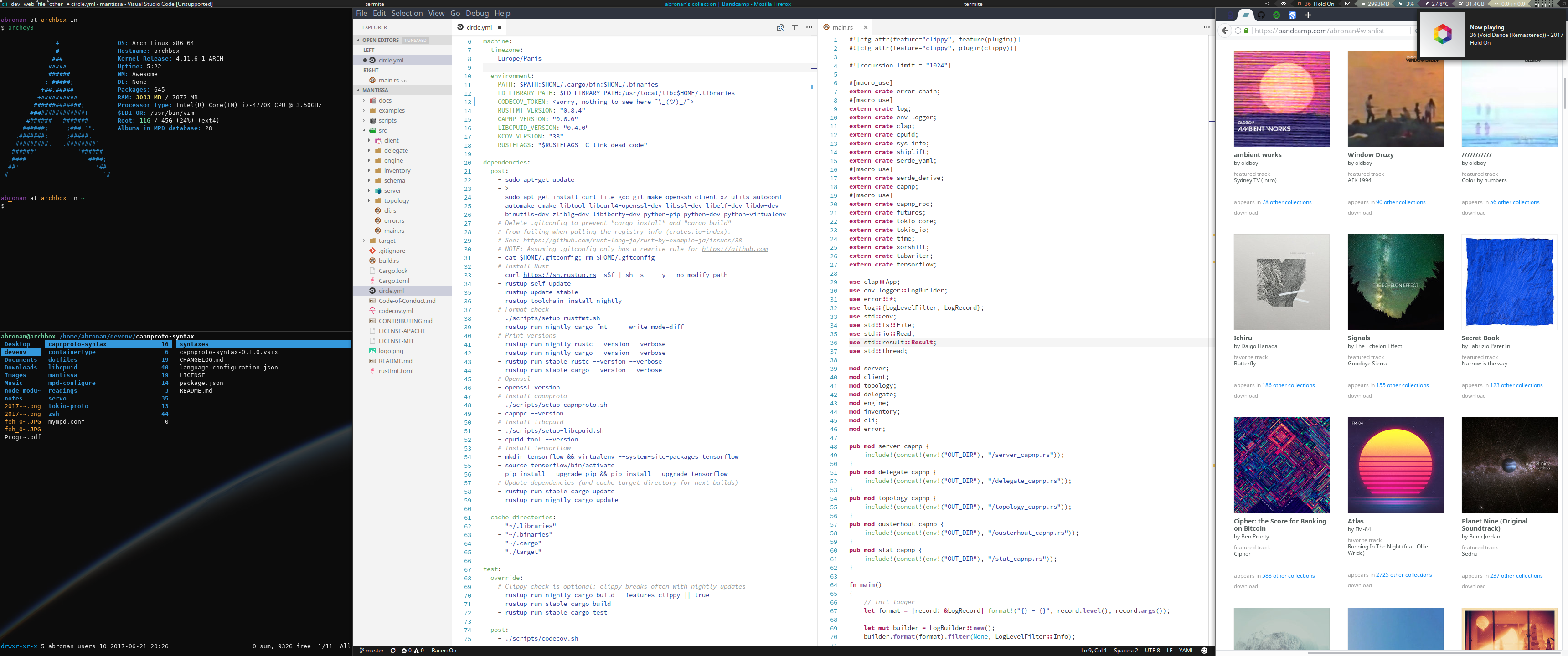 During the day I'm using a bright color scheme (Github Bold), but at night I'm switching to a more dark/subtle color scheme (Northem Dark) along with reducing the brightness of the screen. I use the Hasklig developer font which is very pleasing to the eye and comfortable to read for long working sessions. The keyboard being backlit is convenient for very occasional night sessions when insomnia kicks in.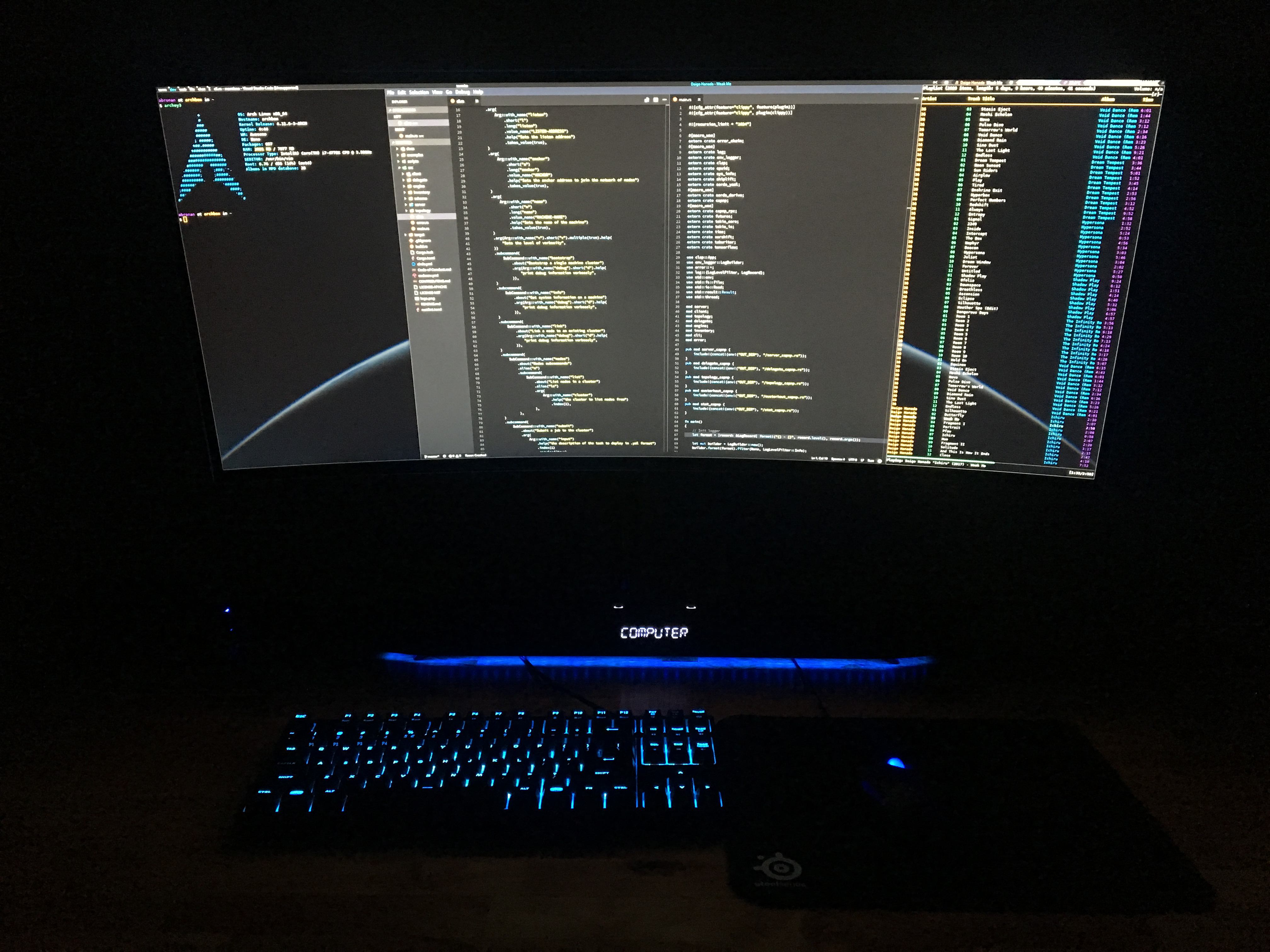 Conclusion
---
I think I'm very close to my ideal setup even though I could still do better with the cable management. In the end, I feel much more productive and comfortable with this new setup.. which was critical for me as I'm working at home.
abronan Newsletter
Join the newsletter to receive the latest updates in your inbox.
Comments